John Donohie – Certified Massage Therapist
I work with a  focus on pain reduction and increased range of motion. The most rewarding work comes from looking at specific issues and working with the client to find ways to problem solve. Sessions that involve asse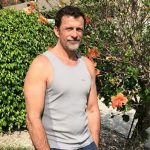 ssing posture, work habits, recreational activities and holding patterns, as well as clear communication and feedback from clients can be of great benefit. I prefer addressing specific issues and to work very slowly, utilizing deep tissue techniques, opening fascial lines and bringing movement to an area.
A strong belief in the importance of physical and emotional health led me to practicing massage. As an avid outdoorsman, I know what it is to feel the stress, tension and pain from working, playing and living a rich, full life. I still spend time outdoors, hiking, climbing, skiing, mt biking, trail running, and sea kayaking. Solid environmental ethics and respect for the natural world are central to my core values.
After many years as an Outward Bound Instructor and a classrrom teacher,  I found that doing massage put me on the other end of the stress spectrum. Massage allows me to better manage my own stress while helping others.
Certified in 1987 and re-certified in 2015 at the San Francisco Shool of Massage, I have over 700 hours of professional training.
MEMBERSHIPS AND CERTIFICATIONS
CAMTC – Massage Therapist Certification # 16644
ABMP member (Associated Bodywork and Massage Professionals)